Whether a kid should receive education before the school age is a debatable question. Some are ensured that kids' brains are capable of accepting more information at an early age, while others emphasize the importance of letting kids enjoy their early childhood without any pressure. However, the latest studies carried out, prove that kids enrolled in Head Start programs have impressively higher IQ scores than those left without any education. Besides, early childhood education in Australia also has a great impact on kids' behavior. Just the same way, those kids who were enrolled in similar programs become capable of learning quicker and memorize easier. All these statistics serve as a solid proof that early childhood Australian education is more a necessity than a luxury if we strive to create a smarter and much more advanced future, broadly to explain.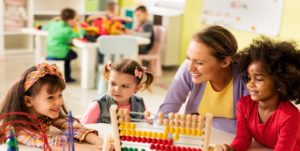 To speak more specifically, we shall separate several most essential benefits of early childhood education:
Socialization
Surely, every parent realizes the importance of letting his child go behind his safe home environment, yet not all agree to take steps. One of the key elements of pre-school education in Australia is giving the kid a chance to spend time with his peers. And the earlier the parent agrees to that, the better for his kid. Early education is an effective tool in hindering a kid's social development.
Concept of Cooperation
The next major benefit of early childhood education in Australia is teaching the kid the concept of cooperation. Kids learn how to share and cooperate with other kids, when to take turns and persevere, and when to yield.
Boosting Holistic Development
Specialists working in the sphere of pre-school education, are experts in creating a good ground for kids' emotional, physical, social and mental development. In fact, all these preparations are addressed to be useful throughout their whole lives.
Creating Enthusiasm for Lifelong Learning
As a rule, lessons in pre-school education programs are given in an exciting and fun way so that to create an enthusiasm for learning in the kid. Specialists well understand how important it is to inspire a thirst for learning in children from the early age. And if kids get to school without having acquainted with a unique way of learning, education might appear not so interesting as it should.
Respect
Respect should be taught to kids from their early age. By saying this, we don't mean only respect for other people and their belongings but also respect for our environment, Mother Nature, and the globe overall. And can there be a better place to teach all this than a preschool environment?!
Teamwork
Another important aspect of early childhood education is getting the kid familiar with teamwork. This will teach the kid respect others' opinions even if he can't agree with them, listen to others, cooperate with them and accept the equality between all kids. As a result, the kid grows into a socially attuned and an employable personality.
Concentration
Most probably you already know that kids have very imaginative and lively minds. They simply adore to explore new things, find new friends and new places (at least around their houses). When the kid is engaged in an early childhood education in Australia, this zest and the ability to concentrate, listen and follow directions are balanced. This is achieved by incorporating kids into group activities.
Confidence in Oneself
What do you think, can a child explore new skills and interests for him if he is locked in his own world? We greatly doubt. Pre-school education programs in Australia and other countries are aimed to encourage optimism, confidence in themselves and a higher self-esteem. As a result, they enter schools ready to approach any situation or problem with a firm confidence.
Patience
Every adult faces multiple situations every day when his patience is tested. Kids, on the other hand, are always given what they need and want at the current moment. But that's definitely not a correct approach. Such experiences as role modeling are addressed to develop kids' patience and teach them to wait for their turn to speak, play or do anything assigned. All these are implemented through games!