As the cities grow bigger, the times go by faster, the amount of work grows larger, the schedules become busier, and it becomes more and more important to divide the precious time properly. Doing one task leads to completing the other but if you get distracted can you finish even the first one? If you are well-organized, these apps will help you to become even better at managing all the activities; and if you are a true procrastinator, hopefully these can help you get everything done: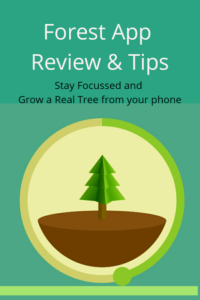 Forest is a very popular app of this kind for a couple reasons. It is likable because of its extraordinarily aesthetics, simplicity, and rewards. Every time there is a need to stay focused you just open the app and immediately you plant a virtual tree. The tree can only grow if you do not leave the app during the time set by yourself. If you can make yourself stay concentrated, the tree grows. With great determination and commitment the number of trees and eventually grows into forest. If you check the prohibited websites like Facebook, your tree dies because of you. The app appeals to the emotional side of you and makes focusing more competitive and interesting. The unique approach that the app uses makes it very enjoyable to use, especially to people who like nature and care for the ecosystem. It is also quite addicting because of the virtual coins you can receive for every time you focus and the coins can actually pay for a real tree to be plant via a partner non-profit company "Trees for the Future".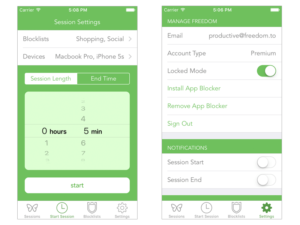 You never think how huge is the fraction of your time that is taken away from you towards no goals by the social media. Besides using it to connect with your friends, you can dive into the river of never-ending videos or GIFs and lose a couple of hours in a blink of an eye. The app Freedom makes one value the time as a priceless resource and is accessible across all your devices. Using it, you can blacklist your most often and unproductive distractions and schedule 'freedom' sessions that allow you to spend time on the unnecessary websites and apps. At a certain time of the day, predetermined by you, the app will block all the distractions. The app helps to stay in control of your time and saves you from endless purposeless scrolling.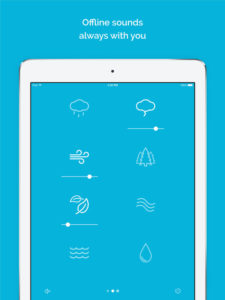 While there are people that can stay peaceful and concentrated even if they are surrounded by chaos and apocalypse, there are also some that need their every sense to be set to the right condition and atmosphere in order to concentrate. We have so many sense that even a slight change in them can distract us and draw your attention to something that does not drive us towards a certain goal. Nowadays, it is known that ambient sounds help with focusing and eliminating any distractions. Noisli aims to do just that. Thanks to the discovery of this fact, Freedom can serve as an app that mixes different sounds (such as bonfire or seaside etc.) and attempts to create an ideal environment for your work or creativity. Moreover, Noisli has also included a timer that uses pomodoro technique. Basically, it divides time into blocks of paying profound attention to the task and relaxing. In addition to all that, the app uses chromotherapy with the use of a background colour generator.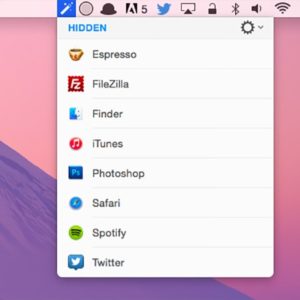 This app's main aim is shutting down and hiding unused or distracting apps. Mess does not help one to concentrate, it just works vice versa and that is exactly what effect Hocus Focus attempts to block. The application determines which windows have not been used for a period of time and automatically hides them. It only leaves visible the apps that are currently used by you. There is a popular fact that if you get distracted from a task that required additional concentration (like writing an email) it can take about 23 minutes to refocus. However, if the distractions are hidden, the app helps you stay concentrated and work on one task at a time.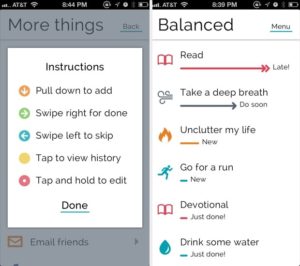 If one's everyday habits are in order, every work task will stay in order too. People look for ways to improve their focusing skills when they want to increase their productivity at work. It is important to understand that the performance at the working place is greatly impacted by what a person does outside of the office. The app Balanced helps you to stay productive even when you are not at work. It helps you to keep doing things you wish you did more often and motivates you to never stop using your time with purpose. Through the use of iconography and charts that are easy to comprehend users can track their progress and create habits that improve the quality of their life and make them feel better. Balanced aims at pushing people to lead more fulfilling lives.
There are many more apps developed by different companies all chasing the same goal – to help you concentrate. However, the most important thing required for your deep focus and attention is your own controllable willpower. These popular apps help you train it, develop positive habits and stay productive whatever it is you do. Stay conscious of what you spend your time on using these helpful applications wherever you go!