Almost every person living on planet Earth would agree that violence is a huge issue in our life whenever it comes out on the news or in articles. When is it the scariest? At the time when you have neither too much strength nor experience. The subject of bullying in Australian schools is unfortunately ongoing till these days. Our service is quite familiar with how it strikes children and teens all over the country.
Bullying Statistics in Schools
Nothing tells you more about occurrences of bullying in schools than official statistics. More than 1,200 people completed an online survey for the recent research of Relationships Australia in March 2018. Almost everyone thought that using force at schools is a massive problem; social bullying was considered the most harmful one, although a significant percentage of respondents pointed out how all types are dangerous for children. More than half of respondents were not sure that places of education have productive ways of dealing with aggression.
Including the Issue of Bullying in Schools Articles
"You are not alone, don't be afraid to stand for yourself or ask for help." Wouldn't you feel better after you read an article where an inspirational figure is talking about the same issue that traumatized you before? It's great to understand how your experience is not as embarrassing as you thought it was. Media should be used to spread information about the subject of bullying and ways to neutralize it.
Bullying in Schools Essay and Class
An ability to timely spot and eliminate bullying is one of the crucial skills that teachers ought to possess; being able to defend themselves while not using the same brutal methods is something children have to be taught. A great way to do that would be educating teachers about the issue. That way they can involve children in specialized tasks regarding the matter and let them talk it out in class, not fearing any bad outcomes.
Explore the Types of Bullying in Schools
As long as you think of students pressuring each other, a lot of movie scenes with physical violence or boycotting come up in your head. It's not always that. There are several types of bullying in schools.
• Verbal includes calling names, making rude comments, laughing at someone.
• Physical is the use of brute force for abuse and/or stealing or breaking someone's belongings.
• Social means leaving someone out, trying to make a fool out of them.
• Cyberbullying is used over the Internet; an oppressor usually leaves mean messages and comments on their target's social media page.
A major step for schools is to provide teachers and students with an anti-bullying policy which can prevent any type of abuse.
Anti-bullying Policy in Schools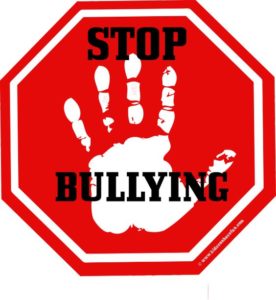 A good approach to preventing bullying is a school policy, an anti-bullying policy in particular. Most educational institutions have the same system; it gets reviewed every year to include new ideas or rules. Critical points in it are to spread the understanding that any form of bullying is unacceptable, support the right ways of responding to harassment, assist the students who experienced bullying before and provide them with relevant contact information such as Headspace website or Kids Helpline hotline number (1800 55 1800).
Conclusion
There is enough cruelty in this world, and we should not tolerate but rather combat it; avoid looking away from it, pretending it is not there. Humanity stands for dignity, love, care. How much easier would it be to live without brutality and fury…? And all it takes is having basic awareness and instilling kindness in your child since the early years. This way we can all join hands and potentially eliminate bullying.
Also, check another interesting article from our writer: Why I Hate School But Love Education?